Pompeii to Mount Vesuvius: Transportations & More
Contents
Why Go On A Pompeii To Mount Vesuvius Day Trip?
Historical continuity: Mount Vesuvius is inseparably linked to Pompeii's history as the cataclysmic eruption in 79 AD buried the ancient city under layers of ash and pumice. Visiting Mount Vesuvius completes the historical narrative, allowing visitors to witness the very force of nature that brought about Pompeii's demise.
Geological understanding: While Pompeii showcases the aftermath of the eruption, Mount Vesuvius provides an opportunity to comprehend the volcanic processes that led to the disaster.
Short distance: Mount Vesuvius is just 9 kms away from Pompeii and can be easily reached. When visiting Pompeii, visiitng Mount Vesuvius becomes an unmissable experience.
Different Ways To Reach Mount Vesuvius From Pompeii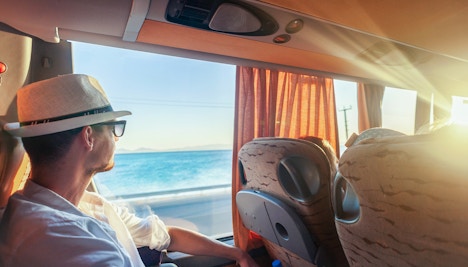 Busvia del Vesuvio
Timing: 9 AM to 3 PM
Frequency: Every 1 hour
Duration: 2.5 hours
This tourist service operates purpose-designed vehicles that are comfortable and professional. Departures run hourly from 9 am to 3 pm in air-conditioned vehicles with a capacity of 23 seats. It is recommended that reservations are made in advance.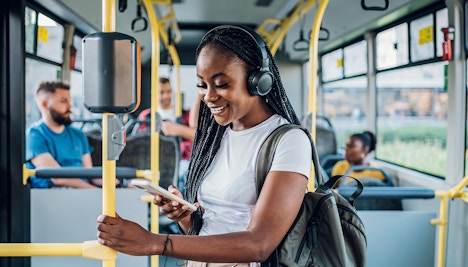 EavBus/Sita Public Bus
Timing: Entire day
Frequency: Every 50 minutes
Duration: 3 hours
This is a timetabled bus service that operates between Pompeii and Mount Vesuvius. The same buses are used on this route as any other public bus service in and around Pompeii. The bus stop is on the Piazza Anfiteatro, immediately outside the main entrance to the Pompeii ruins. Note that this is not the entrance by the Pompeii Circumvesuviana Station, but is within the town center of Pompeii, a good 15-minute walk from Pompeii Circumvesuviana Station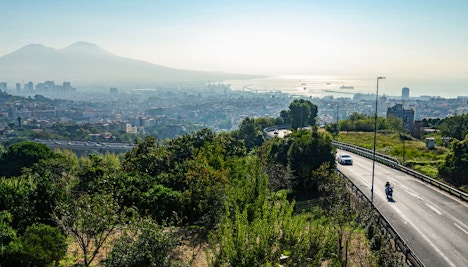 Private Car or Taxi
You can arrange for a private car or taxi to take you from Pompeii to Mount Vesuvius. This option can be more expensive than the bus services, but it offers more flexibility and can be more comfortable. You can ask your hotel or a local tour company to arrange a private car or taxi to take you to Mount Vesuvius.
Things To Do In Mount Vesuvius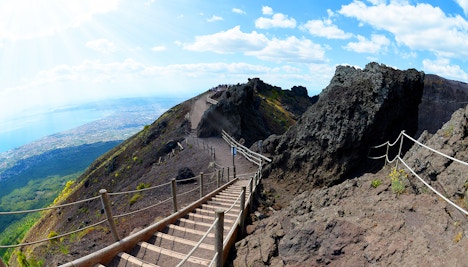 Hike to the summit
You can hike to the top of Mount Vesuvius and enjoy the stunning views of the Bay of Naples. The hike is about 5km long and takes around 1.5-2 hours. It's a moderately strenuous hike, but the views from the top are definitely worth it.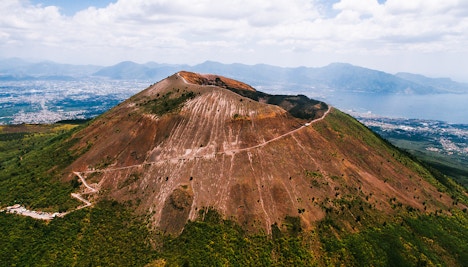 Visit the Vesuvius National Park
The Vesuvius National Park is home to a diverse range of flora and fauna. You can take a guided tour of the park and learn about the geology and ecology of the area.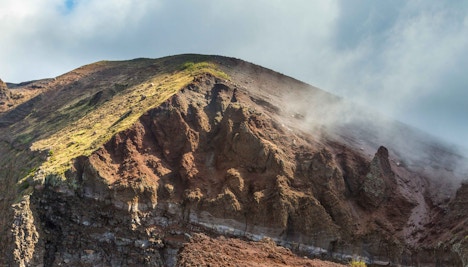 Explore the crater
Once you reach the summit, you can explore the crater of the volcano. The crater is about 200 meters deep and 800 meters wide. You can see steam rising from the vents and smell the sulfur in the air.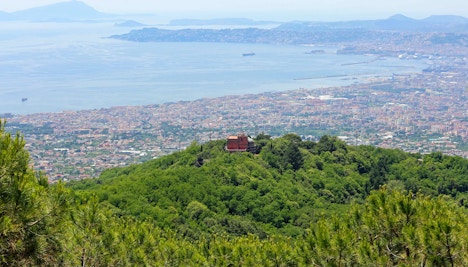 Visit the Vesuvius Observatory
The Vesuvius Observatory is located at the foot of the volcano and is responsible for monitoring the volcano's activity. You can visit the observatory and learn about the history and science of volcanic eruptions.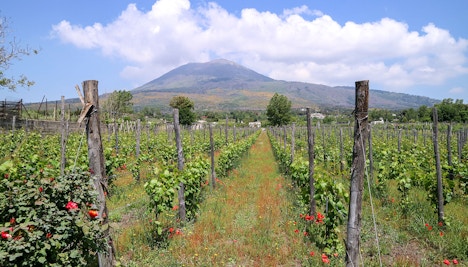 Taste the wine of the region
The fertile soil around Mount Vesuvius produces some of the best wines in Italy, you can take a wine tour of the area and visit some of the local vineyards and wineries.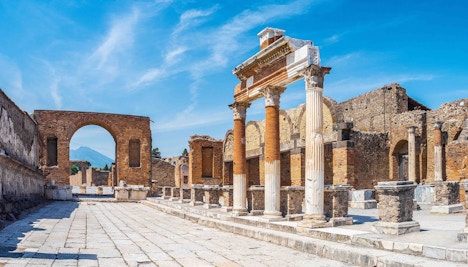 Volcanic Souvenir Shopping
There are small souvenir shops near the parking area selling volcanic rocks, pumice stones, and lava-related products. Purchasing these unique souvenirs can be a fun way to remember your experience on Mount Vesuvius.
Frequently Asked Questions On Pompeii To Mount Vesuvius
What is the best way to get from Pompeii to Mount Vesuvius?
The best way to get from Pompeii to Mount Vesuvius depends on your preferences and budget. Options include public buses, tourist services, and private cars or taxis.
Can I visit Mount Vesuvius and Pompeii in a single day trip?
Yes, it is possible to visit both Mount Vesuvius and Pompeii on a day trip. The best option will be to combine your Pompeii visit with a trip to Mount Vesuvius.
How long does it take to get from Pompeii to Mount Vesuvius?
The distance between Pompeii to Mount Vesuvius is 25 km. It would take around 40 mins to reach Mount Vesuvius from Pompeii
Is it necessary to book in advance for public buses?
Booking the tickets in advance is not necessary but it is advised that you book the tickets for Mount Vesuvius from Pompeii in advance.
Can I hike to the summit of Mount Vesuvius?
Yes, hiking to the summit of Mount Vesuvius is possible. There are trails available for hikers, and some guided tours include a hike up the mountain.
Can I take my own car to Mount Vesuvius from Pompeii?
Yes, you can take your own car to Mount Vesuvius from Pompeii. There is a parking area available at the base of the mountain.
Is it safe to visit Mount Vesuvius?
Yes, it is safe to visit Mount Vesuvius. However, following all safety guidelines and instructions from park rangers or tour guides is important.
Can I combine a visit to Mount Vesuvius with a tour of Pompeii's archaeological site on the same day?
Yes, many visitors combine a visit to Mount Vesuvius with a tour of Pompeii in a single day.